Introducing our guest rooms
A major feature of Japanese homes is the custom of removing one's shoes before entering.
Another is the tatami room, in which one sits on a floor of woven mats.
The Hotel has 70 rooms in the tatami style traditional in Japan.
The remaining 45 rooms are Western-style, giving the hotel a total capacity of 270 guests.
※Japanese-style room" Western-style room                 
Special Room
Another five rooms offer a spacious mix of tatami and Western-style rooms.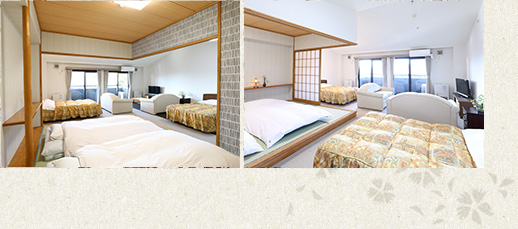 Hot Springs
Guests can soak away the fatigue of their journey at the Kotohira
hot springs, with a huge indoor bath and an open-air bath outdoors

To have fun during the long night of a trip
Inside the hotel, there are amusement facilities such as Karaoke room, Mah-jongg room and more. (Reservation required)

Moreover, at the free spot installing wireless LAN (wi-fi for free), you can also search and get sightseeing information, or tell the recollections of a trip to families and friends in real time.