dishes of boast
One of the joys of travel is sampling a country's culinary culture and regional cuisines.
At New Star, the house specialty is a pork shabu-shabu,
which the chef seasons to suit the tastes of each guest's country.
The delicious broth makes this dish a perennial favorite.
A wide range of cuisine is on offer, including Chinese and Western
fare as well as o-den, a Japanese hodgepodge. At the breakfast buffet,
guests can eat their fill of both Japanese and Western dishes.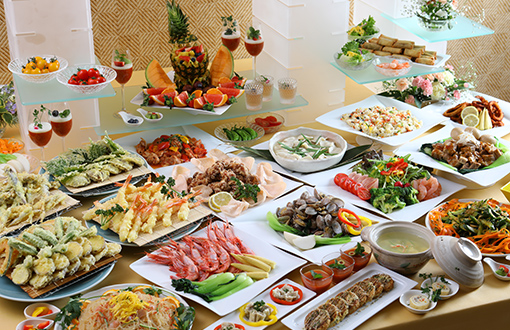 Optional dishes
If there is one dish everyone should try before leaving Japan, it's sashimi.
The hotel boasts a wide selection of these raw-fish delicacies. Live crayfish,
the finest bluefin tuna, all at a reasonable price. Advance order is required.
Please contact the Hotel for details. Live abalone, seasoned and grilled before
the guest's eyes, is another favorite.